Paul Hovis
Trustee Hovis was elected in November 2007 and began his term on January 1, 2008.
Trustee Hovis moved to Bazetta Township when he was 9 years old and has lived here ever since. He is an alumnus of Lakeview High School and continues to remain very involved in the school's activities.
Trustee Hovis has been a member of the Optimist Club for 12 years, serving on the Board for 10 years and as President for 6 years. He has been coaching LAC baseball for 21 years and served as the Vice President of the Lakeview Little Bulldogs for 2 years.
He is so devoted to Bazetta Township that he chose to open a business here. Hovis Tire on Elm Road was opened 7 years ago because Trustee Hovis wanted his hard earned tax dollars to be used in the community where he could see them.
As a business owner, Trustee Hovis saw that the township had a good team of department heads and employees. He believed that it would take great leadership to keep the township moving forward. It is for that reason that he chose to run to serve as a Township Trustee.
Trustee Hovis has been married to Deneen, also a lifelong Bazetta resident, for 25 years. Together, they have 3 children – Jennifer, Stephanie, and PJ. They also have 2 grandchildren – Caden and Conor.
A few words from Trustee Hovis…
In my three years as a Township Trustee, I believe that I have helped initiate many changes for the betterment of the township. With the help of all department heads, we have been able to save more than $200,000 by shopping around for more cost effective health insurance for township employees and updating technology to more efficiently link all departments. When I was elected, our Fire Department was $375,000 in the hole. With a lot of sacrifices on the part of the Administration and the Fire Department, we have now turned that situation around to a point where the Department is in better shape than any other in the township. Trustee Parke, then our Road Superintendent, has been and will continue to be a knowledge base for helping move the township forward.
We have a good township with equally good people. Let's keep the team working together in the same direction.
I am here for Bazetta Township's residents. You can call me at anytime. I would like to thank those of you who voted for me. Know that I am working very hard for you and am always open to your suggestions for improvement.
________________________________
Bazetta Township Adminstration Building
3372 State Route 5 N.E.
Cortland, Ohio  44410
Phone: (330) 637-8816
FAX: (330) 637-4588
Paul Hovis
Email: phovis@hovistire.com
Frank W. Parke
Trustee Parke was elected in November 2009 and began his term on January 1, 2010.
Trustee Parke was born and raised in Bazetta Township and has been a lifelong resident here. He is an alumnus of Lakeview High School.
Prior to beginning his term as Trustee, Mr. Parke retired from his position as Bazetta Township's Road Department. He served in the Road Department for 42 years. He was also a Volunteer Firefighter, reaching the rank of Lieutenant, for the Cortland/East Bazetta Fire Department for 14 years. He also worked for the Ohio Department of Transportation for 1½ years.
Trustee Parke and his family have owned two businesses in the township. The Lakeside Sports Shop was in the family for 60 years prior to being sold in 1995. Lakeside Service, a towing company, was in the family for 20 years before being sold in the mid 1970s.
Trustee Parke is married to Kay Parke. He has two children, Kristopher and Randy (deceased). He has two step-children, William and Marlene. He is the proud grandfather of Billy, Miranda, and Mya.
________________________________
Bazetta Township Adminstration Building
3372 State Route 5 N.E.
Cortland, Ohio  44410
Phone: (330) 637-8816
FAX: (330) 637-4588
Email:  fparke@bazettatwp.org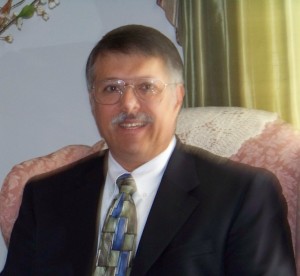 THEODORE J. (TED) WEBB
Trustee Webb was elected in November 2013 and taking office January 1, 2014. He is a lifetime resident of Trumbull County with 39 years as a resident of Bazetta Township.  Trustee Webb's family lived for 21 years on the corner of Bazetta Road and Sterling Drive and currently lives in the Timber Creek area.
Married for 42 years to wife Denise, they have 2 children, Michelle and Brian.  Both are graduates of Lakeview High School.  Michelle is a graduate of YSU and has 2 children, Jacob and Megan. They live in Bazetta township. Brian is a graduate of Mount Union College and he and his wife, Jessica, and son Crosby live in the Columbus area.
Trustee Webb is the founder, and President of Meridian Arts & Graphics, Inc., a pre-press and plate making company founded in 1993, servicing the packaging and printing industry.
Community Involvement:
Lakeview Athletic Club-Past President
Previously coached baseball with Lakeview Athletic Club
Previously coached soccer with the Lakeview Soccer Association
Cortland Area Lions Club-Past member and previously on the Board of Directors
Member of the Bazetta Township Bikeway Committee
Past member of the Bazetta Park Board
Past Chairman of the Bazetta Township Zoning Board
Recent Contributions:
1)      Introduced Township to PTNE, a phone equipment company, to upgrade the phone system and save the township money in
doing so.
2)      Worked towards re-zoning 50+ properties to have the correct designation, preventing issues for financing to property owners.
3)      Co-authored text revision to the Zoning Resolution that was instrumental in saving the Delphi building located in Bazetta Township
4)      Introduced several other text revisions to update and improve the Zoning Resolution
________________________________
Bazetta Township Adminstration Building
3372 State Route 5 N.E.
Cortland, Ohio  44410
Phone: (330) 637-8816
FAX: (330) 637-4588
Email: twebb@bazettatwp.org